This list is soooo old! We've published the 2019 List of Mobile Prefixes for the Philippines!
Another year, another set of new numbers. By popular request, we're publishing the Updated List of Mobile Prefixes in the Philippines for 2017. Our app, PreFIX PH, was designed to get rid of all the questions and doubts about what network 09XX belongs to. Instead, all you have to do is download the app and it will sort your contacts according to network. You'll never send a text to the wrong network again!
Phonebook for the Philippines
So why bother searching on Google for a very long list of mobile network prefixes in the Philippines when PreFIX PH can tell you the network even if you're offline? Download the app now via these links.
Would you like to know what network 09XX is the easiest way? PreFIX PH is the Philippines' first ever intelligent phonebook app that labels and sorts your contacts by network. We have network prefixes for Smart, Globe, Sun, and more.
Solve all your network problems and stop asking "What network is 09XX? Download PreFIX PH for FREE!
Identify your contact's network before calling or texting
Promo Directory with a list of all promos available on your preferred network
Mobile Network Checker just by typing to first 4 numbers (ex. 09XX)
Pass-a-load to any contact on your preferred network
Group Messaging to text friends and family on the same network
Favorite any contact to quickly access them in your Favorites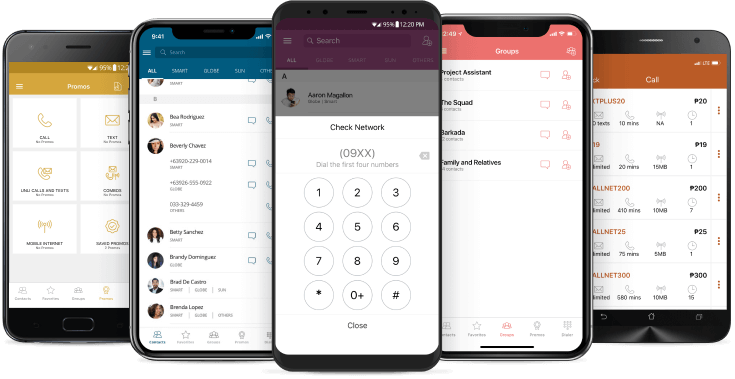 Here is the complete list of all the numbers and their networks we have listed on our app. We have sorted them as Globe & Touch Mobile, Smart & Talk'N'Text, SunCelluar, Cherry Mobile, ABSCBN Mobile and Extelcom and Next Mobile.
Hey there! This list is so last year. We've published a 2018 List of Mobile Prefixes for the Philippines!
| | | | | | | | |
| --- | --- | --- | --- | --- | --- | --- | --- |
| Prefix | Network | Prefix | Network | Prefix | Network | Prefix | Network |
| 0813 | Smart or Talk N Text | 0920 | Smart or Talk N Text | 0937 | ABS-CBN Mobile | 0970 | Smart or Talk N Text |
| 0817 | Globe or Touch Mobile | 0921 | Smart or Talk N Text | 0938 | Smart or Talk N Text | 0973 | Extelcom |
| 0905 | Globe or Touch Mobile | 0922 | Sun Cellular | 0939 | Smart or Talk N Text | 0974 | Extelcom |
| 0906 | Globe or Touch Mobile | 0923 | Sun Cellular | 0940 | Smart or Talk N Text | 0975 | Globe or Touch Mobile |
| 0907 | Smart or Talk N Text | 0924 | Sun Cellular | 0941 | Sun Cellular | 0976 | Globe or Touch Mobile |
| 0908 | Smart or Talk N Text | 0925 | Sun Cellular | 0942 | Sun Cellular | 0977 | Next Mobile |
| 0909 | Smart or Talk N Text | 0926 | Globe or Touch Mobile | 0943 | Sun Cellular | 0978 | Next Mobile |
| 0910 | Smart or Talk N Text | 0927 | Globe or Touch Mobile | 0944 | Sun Cellular | 0979 | Next Mobile |
| 0911 | Smart or Talk N Text | 0928 | Smart or Talk N Text | 0945 | Globe or Touch Mobile | 0981 | Smart or Talk N Text |
| 0912 | Smart or Talk N Text | 0929 | Smart or Talk N Text | 0946 | Smart or Talk N Text | 0989 | Smart or Talk N Text |
| 0913 | Smart or Talk N Text | 0930 | Smart or Talk N Text | 0947 | Smart or Talk N Text | 0992 | Smart or Talk N Text |
| 0914 | Smart or Talk N Text | 0931 | Sun Cellular | 0948 | Smart or Talk N Text | 0994 | Globe or Touch Mobile |
| 0915 | Globe or Touch Mobile | 0932 | Sun Cellular | 0949 | Smart or Talk N Text | 0995 | Globe or Touch Mobile |
| 0916 | Globe or Touch Mobile | 0933 | Sun Cellular | 0950 | Smart or Talk N Text | 0996 | Cherry Mobile |
| 0917 | Globe or Touch Mobile | 0934 | Sun Cellular | 0951 | Smart or Talk N Text | 0997 | Globe or Touch Mobile |
| 0918 | Smart or Talk N Text | 0935 | Globe or Touch Mobile | 0955 | Globe or Touch Mobile | 0998 | Smart or Talk N Text |
| 0919 | Smart or Talk N Text | 0936 | Globe or Touch Mobile | 0956 | Globe or Touch Mobile | 0999 | Smart or Talk N Text |
Globe or Touch Mobile
Smart or Talk N Text
Sun Cellular

0915

0927

0995

0938

0919

0813

0913

0981

0934

0922

0917

0935

0817

0939

0921

0907

0914

0998

0941

0923

0945

0936

0905

0940

0929

0908

0918

0999

0942

0924

0955

0976

0906

0946

0989

0909

0928

0951

0943

0931

0956

0997

0916

0948

0920

0910

0947

0912

0944

0932

0994

0975

0926

0950

0930

0911

0949

0970

0925

0933

0992

Next Mobile
Cherry Mobile
ABS-CBN Mobile
Extelcom

0977

0978

0979

0996

0937

0973

0974