This list is soooo old! We've published the 2019 List of Mobile Prefixes for the Philippines!
Every year there are thousands of people who get new numbers and in order to keep up with the demand, Philippine telecommunication companies have to issue new numbers with new prefixes. Over the past years, the list of mobile prefixes in the Philippines has become longer and longer. Globe Telecom, Smart Communications and Sun Cellular have got our brains in a twist trying to remember which network prefixes belong to. We often find ourselves asking "What network is 09XX?" Aside from the long list of prefixes, you also have heaps and heaps of promo codes and special offers you want to keep track of to make the most out of money you spend on load. Keeping up with all this can be daunting, so why not get an app that does all that for you?
Would you like to know what network 09XX is the easiest way? PreFIX PH is the Philippines' first ever intelligent phonebook app that labels and sorts your contacts by network. We have network prefixes for Smart, Globe, Sun, and more.
Solve all your network problems and stop asking "What network is 09XX? Download PreFIX PH for FREE!
Identify your contact's network before calling or texting
Promo Directory with a list of all promos available on your preferred network
Mobile Network Checker just by typing to first 4 numbers (ex. 09XX)
Pass-a-load to any contact on your preferred network
Group Messaging to text friends and family on the same network
Favorite any contact to quickly access them in your Favorites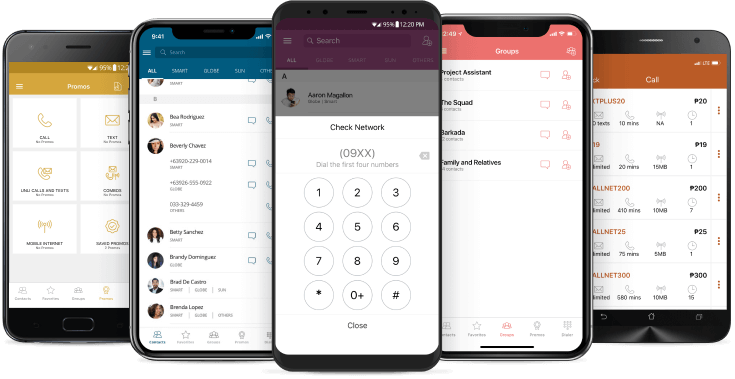 PreFIX PH is the Philippine's first ever intelligent phonebook app that identifies, sorts and labels contacts according to the mobile network they belong to. You'll never have to do another Google search on "List of Mobile Number Prefixes in the Philippines" because PreFIX PH is up to date and will continually keep updated with all the mobile prefixes in the Philippines
PreFIX PH allows you to sort contacts, check networks, send pass-a-load, call, text and even store your favorite promo codes. It's everything you need for mobile communication in the Philippines. It's organized, easy and best of all it's FREE. So say goodbye to that list of mobile prefixes beside your desk, stop asking your friends what network they belong to and download PreFIX PH.
But in case you still want to go old school, here's the list. All of these prefixes are already in the PreFIX PH app and are automatically updated whenever a new prefix is created.
Globe and Touch Mobile

SMART and Talk N'Text

SUN Cellular

0817
0905
0906
0813
0900
0907
0908
0922
0923
0915
0916
0917
0909
0910
0911
0912
0924
0925
0926
0927
0935
0913
0914
0918
0919
0931
0932
0936
0945
0956
0920
0921
0928
0929
0933
0934
0994
0995
0996
0930
0938
0939
0940
0942
0943
0997
0975
0976
0946
0947
0948
0949
0944
0977*
0978*
0979*
0950
0989
0998
0999
0937*
* ABS-CBN or NEXT Mobile under Globe
---
Please share this on